Hotel Palacio - Join Our Team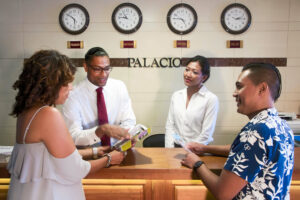 HOTEL PALACIO
Genuine smiles and authentic hospitality
We consider Palacio a special place. A place where our guests experience Suriname.
And we need help at the front.
Many people consider hotel work as "overworked & undervalued"
Well, they have never experienced Palacio:
– The personal and cooperative atmosphere.
– The laughter and smiles (a lot of smiles)
– The amazing things that happen when you meet people from all over the world.
– The satisfying feeling when you return home, knowing you made yet another person… smile 
So, if you have that spark, an open mind and get energy from meeting new people, then do get in touch!
We'd love to have you on our team.
The positions available are at:
– Front Desk: Someone to help us meet and greet our guests.
– Front Desk: A receptionist with computer skills to help us stay organized and
keep things running smoothly.
– Breakfast Kitchen: Suitable for you if you've heard too many times in your life:
"how are you so happy every morning?"
– All Rounder: You love variety, are an energy bunny and flexibility is your middle name.
(Our team always support each other where help is needed)
Don't worry if you don't have a background in hospitality.
We believe that hospitality is more about who you are and not so much about what you can do.
Your smile should be your badge of honor.
The person behind the job is more important than the job –
and what you don't know, we'll show you.
You can look forward to:
· A job that makes you feel eager to get to work every day.
· Interacting with interesting people and different personalities from all over the world.
· Learning something new every day.
· Having the opportunity to grow and prosper.
· Being part of a warm, welcoming team.
Oh and of course, good terms & conditions.
So, what do you say? Up for a meet? This is your first assignment 😃 📝
1. 🤓 Read our reviews @ TripAdvisor to get an idea of who we are (https://bit.ly/HP_TripReviews)
2. 🤳🏼 Send us a 1-minute personal introduction video where you tell us more about yourself &
show us your spark ✨
3. 📩 Video can be sent to 1. @ [email protected] OR 2. WhatsApp: ‪+31 6 37053182
See ya!